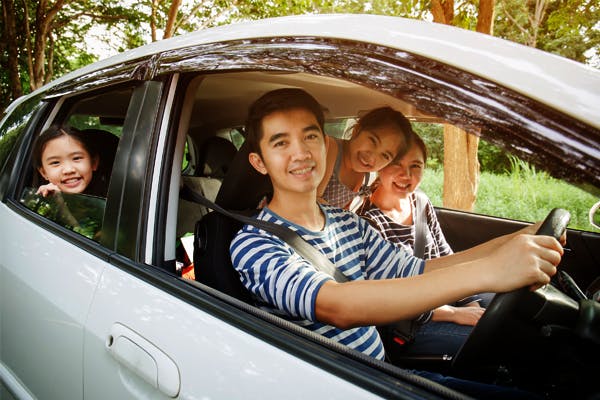 Telematics (telecommunications and informatics) is the integration of telecommunications with information technology. It is the technology of sending and receiving and analyzing information collected via the telematics device.
Telematics motor insurance works by fitting your car with a special telematics device to monitor your driving behaviour, speed patterns, distance traveled and driving environment to assess the level of protection you need on the road. It is the smartest way to get comprehensive coverage for you, and your vehicle as it offers you greater control over your own motor insurance. Telematics motor insurance also offers greater value as its policy holders will not only enjoy premium discounts for their safe driving behavior, but also other safety, security and connected car features via the mobile apps.
AXA FlexiDrive is the 1st ever telematics motor insurance available to Malaysian drivers. It rewards you for being a safe driver with up to 20% discount on your insurance premium. By installing a telematics device in your vehicle, FlexiDrive tracks and scores your driving behavior based on criteria such as speed, mileage and harsh driving.
Based on your scores, you can earn and accumulate Safe Drive Discount which translates to insurance premium discounts up to 20% upon your next renewal. You'll also enjoy other great benefits such as:
Enhanced Road Safety
Automatic Accident Alerts & Assistance will be triggered with your exact location being forwarded to emergency assistance in the event of an accident (should the impact exceed the severity threshold).
24/7 Vehicle Security & Theft Recovery
In the event of theft, real time alerts upon battery disconnection, device sabotage, towing alert (only for premium), or upon customer notification will increase the probability of stolen vehicle recovery.
Personalized Driving Tips
We will not penalize you for being a poor driver. Instead, it will provide you with personalized driving tips to help you to improve your driving skills.
With motor insurance detariffication now in effect, AXA FlexiDrive is the smarter choice that empowers Malaysian drivers by enabling them to influence their own premium, improve driving habits, and keep their cars secure. The best part is customers can enjoy all these added value at no additional premium. They just pay your standard comprehensive premium, plus a fully refundable deposit for the telematics device, to start enjoying all the benefits of AXA FlexiDrive with complete peace of mind. Find out more about AXA FlexiDrive today at www.axaflexidrive.com.